Combi Boilers
Combi Boilers
A compact, great value combi boiler new for 2021
With compact dimensions, low weight and quiet operation the attractively priced Vitodens 050-W hydrogen ready (H2 20% blend) gas condensing boiler.

    Domestic

   Hydrogen H2 Ready

 Energy Efficiency A

   DHW output ratings of 3.2 to 30 kW
Updated for 2021, our best selling gas condensing boiler. 
Efficient, compact, quiet and affordable, the Vitodens 100-W gas condensing boiler is the most popular solution for smaller and well insulated homes.

     Domestic

   Hydrogen H2 Ready

 Energy Efficiency A

 Outputs from 3.2 to 32 kW
Updated for 2021, a high-performance storage combi boiler for the family home
Rapid, reliable, and compact, the Vitodens 111-W is a high-performance wall-mounted storage boiler for family homes with a high demand for hot water.

     Domestic

    Integrated storage tank

 Energy Efficiency A

   Outputs from 3.2 to 32.0 kW
A powerful gas condensing boiler for larger homes
The Vitodens 200-W is a powerful, flexible and easy to maintain wall mounted gas condensing boiler that is perfect for larger detached and semi-detached homes.

     Domestic

   Powered by Gas

 Energy Efficiency A

   Up to 35kw
Combi Boilers
How does a gas condensing combi boiler work?
Gas condensing combi boilers provide both heating and hot water on demand. In other words, these space-saving units heat water when it is required, rather than heating it and storing it for use later. This means they don't require you to have a hot water storage cylinder or a cold water storage tank – as are found with conventional boiler systems. They are quick and easy to install because they have fewer external components than alternative heating systems.
These energy-efficient combi boilers are connected to the mains water supply and are on continual standby. When a tap is turned on, they heat the water through a heat exchanger, giving you hot water when you need it regardless of the time of day or night. Because they eliminate the need for water tanks, they can provide you with extra space in your home. This can be a particular benefit in smaller properties where square footage is limited. Modern gas condensing combi boilers are designed to be extremely energy efficient.
Unlike older non-condensing models, which can waste a considerable amount of heat in the form of hot gases that are released from the flue, condensing boilers capture some of this heat energy and use it to heat up water returning from the central heating system. This means that more of the money you spend on gas will be converted into warmth for your home.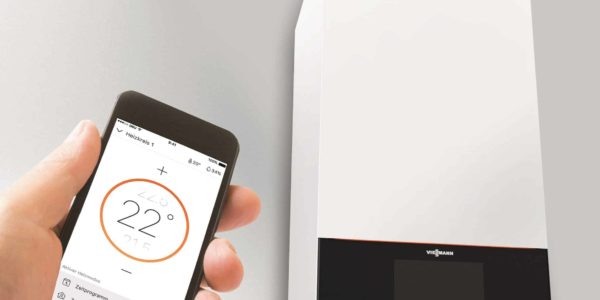 Combi Boilers, Energy-Efficient & Gas Condensing
Typically referred to simply as a 'combi boiler', a gas combination boiler is a single compact unit that combines a central heating boiler and high-efficiency water heater. Our combi boiler range is designed for maximum energy efficiency. This means that by choosing a Viessmann combi boiler you will be saving on your energy bills and helping to protect the environment. Our entire combi boiler range is rated energy efficiency class: A. All of the boilers we provide are built around our long-established reputation for high-quality heating systems and are equipped with the latest heating technology.
Benefits of a Viessmann combi boiler
When you choose a Viessmann gas condensing combi boiler, you can rest assured you're getting the highest standards of performance. Our models are exceptionally reliable and they are built to last. They are also highly efficient, converting up to 98 per cent of the natural gas they use into heat. This will help you to lower your energy bills and cut your carbon footprint. Our gas combi boilers have also been created with smart technology in mind, allowing you to control them from wherever you happen to be.
Vitodens Family
The Vitodens family is our best selling range of gas condensing boilers. Compact, energy efficient and economical with a reputation for exceptional quality and reliability, they are suitable to meet the requirements and demands of every home, no matter how large or small. Gas condensing boilers are the most popular choice for heating and hot water in Irish homes, producing heating and hot water cleanly and efficiently using energy from natural gas.
Our range of gas condensing combi boilers also bring a range of other benefits.
For example:
Their compact size make them ideal for smaller properties.
Hot water is delivered to your taps and shower at mains pressure.
Only one unit is needed to deliver heat to your radiators and hot water to your taps.
No requirement for a separate pump, hot water cylinder or cold water storage tank.
They are quicker to install because they have less external components than other boiler systems.
Comprehensive warranty on the entire range, as standard.
There is no risk of cold water storage pipework freezing in the loft.

T

hey have the ability to adapt to heating demand without constantly switching on/off, meaning smoother operation, less wear and tear on components and greater reliability.
Go green and reduce bills with sustainable, renewable heating
The Viessmann Vitodens range of gas condensing boilers are designed with renewable energy sources in mind, making then ideal for modern households that wish to become more environmentally friendly and reduce energy bills. Our innovative and efficient boilers are ready to connect with photovoltaic systems and can also be integrated with many of our other innovative technologies, helping you to lower energy bills, reduce your footprint and futureproof your home.
Built to last
Our Vitodens boilers are built to last. That's why we are proud to offer up to 5 years comprehensive warranty as standard, as well as the option for an extended warranty option up to 10 years for products installed by a Viessmann Trained Installer. By choosing to purchase a boiler from the Vitodens family, you are not just investing in one of the most efficient and economical boilers available – you are also investing in the peace of mind of knowing that you also have chosen one of the most reliable boilers on the market for your home.
Smart home ready
The Vitodens family has been designed and built with smart homes in mind. Our boilers are supported by a range of optional technologies for smart control including the easy-to-install tado° thermostat and smartphone app, which allows you to optimise your heating environment and save energy costs from the palm of your hand – no matter where you happen to be.